The Brain Tissue Repository is at the forefront of scientific research on traumatic brain injury.
Our scientists and physicians are among the best in their field. Check back often as we update this page with new findings, events, and featured press coverage.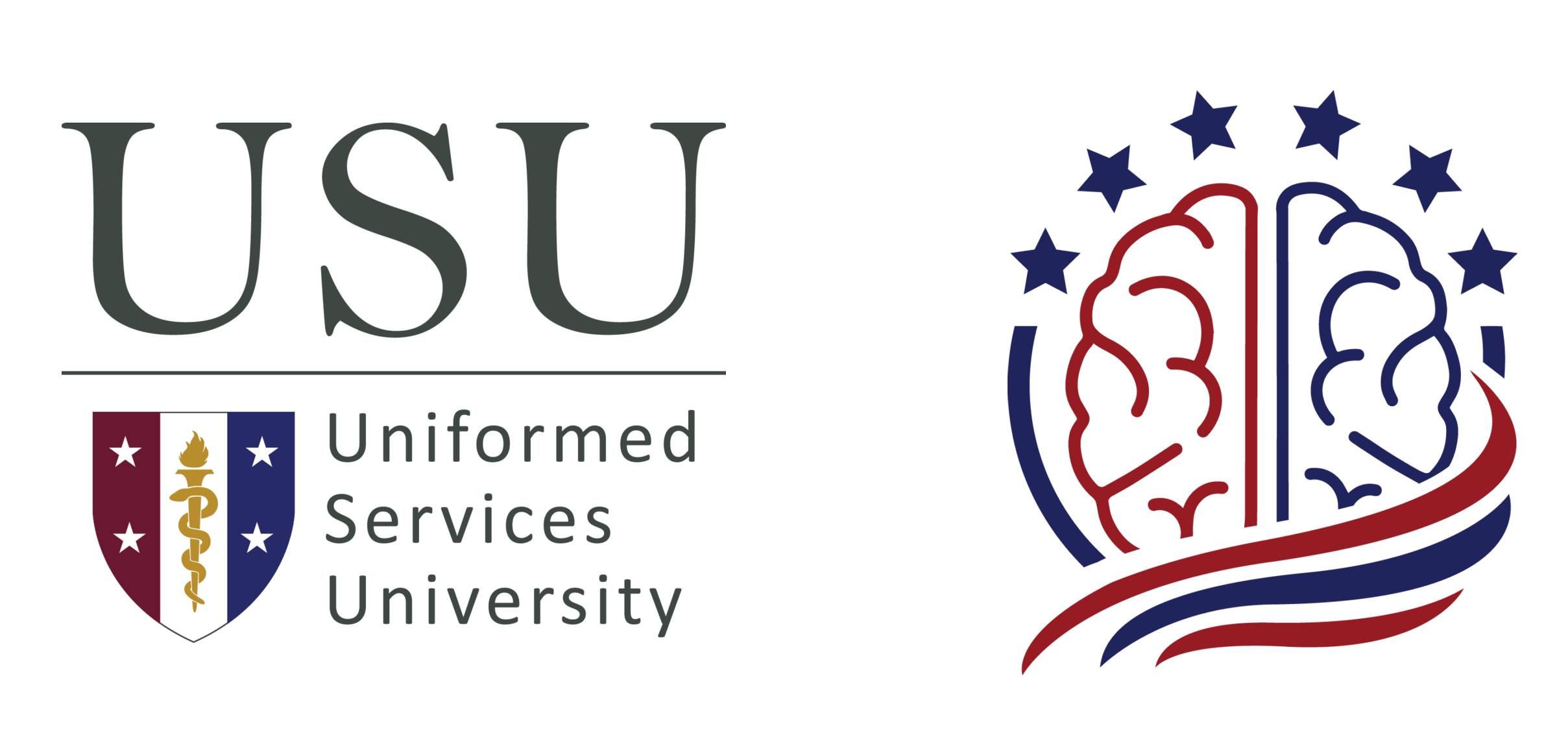 Our Findings
Our scientists compare injured and uninjured brain tissue to better understand the effects of traumatic brain injury on brain health. We have discovered a unique scarring pattern that may explain post-blast symptoms like headache, memory issues, sleep problems, and post-traumatic stress.
Researchers interested in collaboration or use of our facilities for your research, please contact us.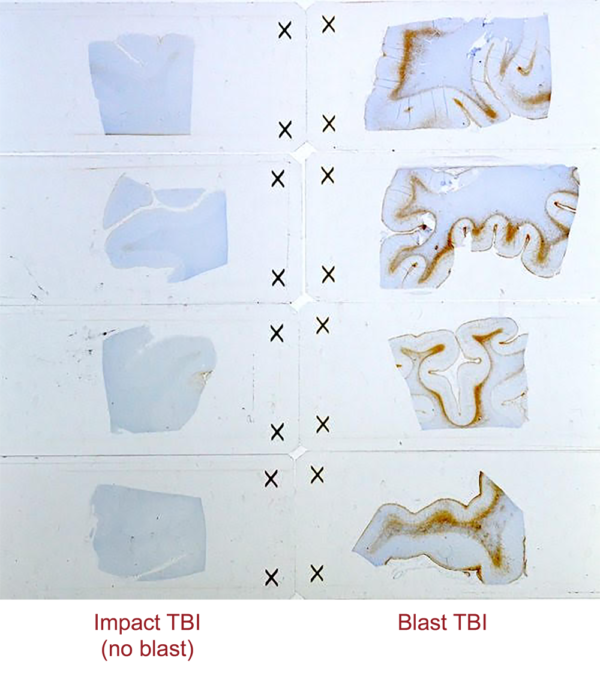 60 Minutes: How IEDs may be physically causing PTSD
Dr. Daniel Perl's research on blast-related traumatic brain injury in the military highlighted on "60 Minutes," watch the video here.
Our work has been covered by the New York Times, National Geographic, 60 Minutes, and many other news and media outlets. Articles may require a subscription.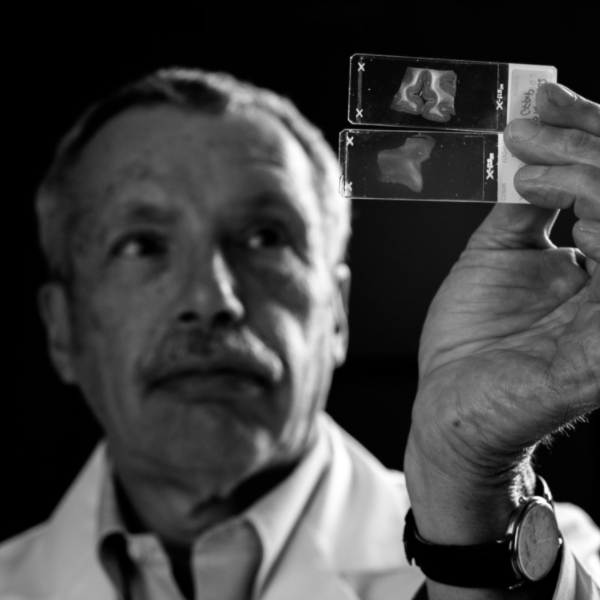 The New York Times Magazine: What if PTSD Is More Physical Than Psychological?
A new study supports what a small group of military researchers has suspected for decades: that modern warfare destroys the brain.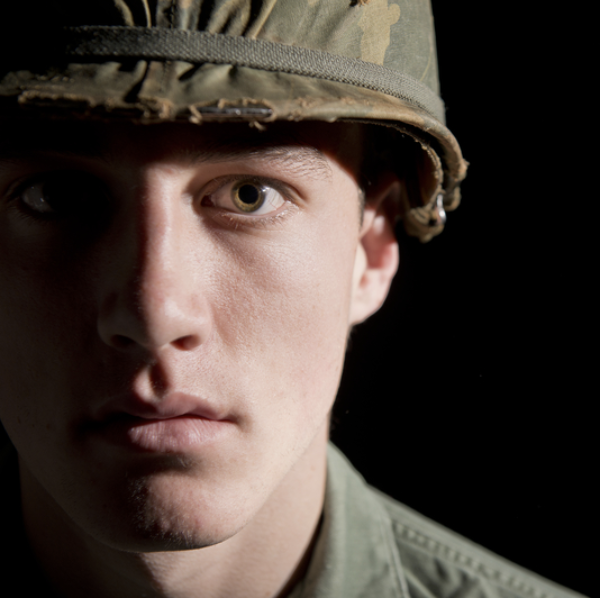 The New York Times: Research Traces Link Between Combat Blasts and PTSD
Research traces link between combat blasts and PTSD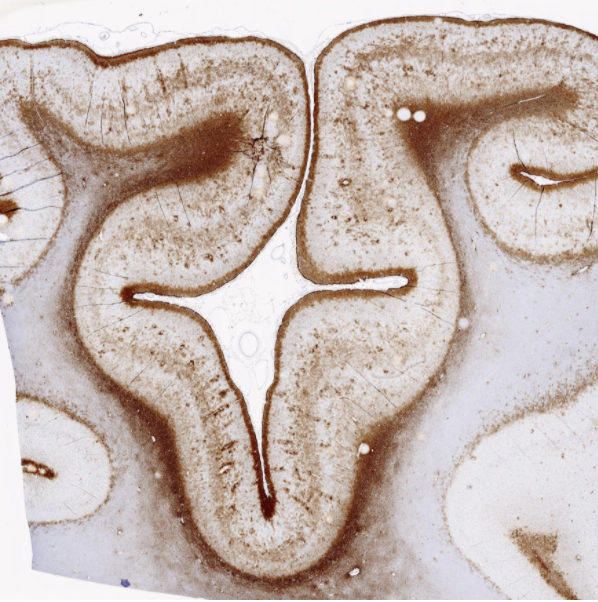 National Geographic: 'Shell Shock' – The 100-Year Mystery May Now Be Solved
A landmark study sheds new light on the damage caused by "blast shock" – the signature injury of wars for more than a century.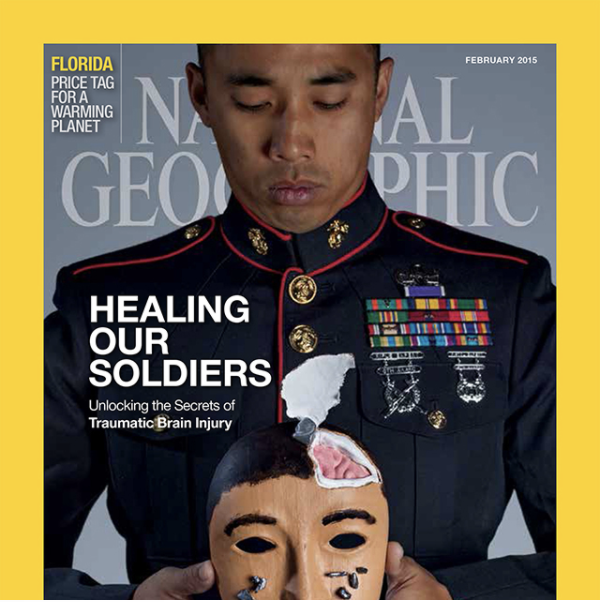 National Geographic: Healing Soldiers
Brain trauma from blast force is the signature injury of the Iraq and Afghanistan campaigns, afflicting hundreds of thousands of U.S. combat personnel. Although unseen, the damage strikes deeply into a soldier's mind and psyche.
Partner with us
We work with many organizations that support military families. Education is a major part of our mission. To help us raise awareness, please share our brochure and website.
Publications
Our team has published many research papers, including:
Shively SB, Priemer DS, Stein MB, Perl DP. Pathophysiology of Traumatic Brain Injury, Chronic Traumatic Encephalopathy, and Neuropsychiatric Clinical Expression. Psychiatr Clin fgNorth Am. 2021 Sep;44(3):443-458. doi: 10.1016/j.psc.2021.04.003. Epub 2021 Jul 7. PMID: 34373000.
Benjamini D, Iacono D, Komlosh ME, Perl DP, Brody DL, Basser PJ. Diffuse axonal injury has a characteristic multidimensional MRI signature in the human brain. Brain. 2021 Apr 12;144(3):800-816. doi: 10.1093/brain/awaa447. PMID: 33739417; PMCID: PMC8041044.
Schwerin SC, Chatterjee M, Hutchinson EB, Djankpa FT, Armstrong RC, McCabe JT, Perl DP, Juliano SL. Expression of GFAP and Tau Following Blast Exposure in the Cerebral Cortex of Ferrets. J Neuropathol Exp Neurol. 2021 Jan 20;80(2):112-128. doi: 10.1093/jnen/nlaa157. PMID: 33421075; PMCID: PMC8453607.
Murphy EK, Iacono D, Pan H, Grimes JB, Parks S, Raiciulescu S, Leonessa F, Perl DP. Explosive-driven double-blast exposure: molecular, histopathological, and behavioral consequences. Sci Rep. 2020 Oct 15;10(1):17446. doi: 10.1038/s41598-020-74296-2. PMID: 33060648; PMCID: PMC7566442.
Meabon JS, Cook DG, Yagi M, Terry GE, Cross DJ, Muzi M, Pagulayan KF, Logsdon AF, Schindler AG, Ghai V, Wang K, Fallen S, Zhou Y, Kim TK, Lee I, Banks WA, Carlson ES, Mayer C, Hendrickson RC, Raskind MA, Marshall DA, Perl DP, Keene CD, Peskind ER. Chronic elevation of plasma vascular endothelial growth factor-A (VEGF-A) is associated with a history of blast exposure. J Neurol Sci. 2020 Oct 15;417:117049. doi: 10.1016/j.jns.2020.117049. Epub 2020 Jul 18. PMID: 32758764; PMCID: PMC7492467.
Iacono D, Lee P, Edlow BL, Gray N, Fischl B, Kenney K, Lew HL, Lozanoff S, Liacouras P, Lichtenberger J, Dams-O'Connor K, Cifu D, Hinds SR, Perl DP. Early-Onset Dementia in War Veterans: Brain Polypathology and Clinicopathologic Complexity. J Neuropathol Exp Neurol. 2020 Feb 1;79(2):144-162. doi: 10.1093/jnen/nlz122. PMID: 31851313; PMCID: PMC6970453.
Edlow BL, Keene CD, Perl DP, Iacono D, Folkerth RD, Stewart W, Mac Donald CL, Augustinack J, Diaz-Arrastia R, Estrada C, Flannery E, Gordon WA, Grabowski TJ, Hansen K, Hoffman J, Kroenke C, Larson EB, Lee P, Mareyam A, McNab JA, McPhee J, Moreau AL, Renz A, Richmire K, Stevens A, Tang CY, Tirrell LS, Trittschuh EH, van der Kouwe A, Varjabedian A, Wald LL, Wu O, Yendiki A, Young L, Zöllei L, Fischl B, Crane PK, Dams-O'Connor K. Multimodal Characterization of the Late Effects of Traumatic Brain Injury: A Methodological Overview of the Late Effects of Traumatic Brain Injury Project. J Neurotrauma. 2018 Jul 15;35(14):1604-1619. doi: 10.1089/neu.2017.5457. Epub 2018 May 3. PMID: 29421973; PMCID: PMC6016096.
Kenney K, Iacono D, Edlow BL, Katz DI, Diaz-Arrastia R, Dams-O'Connor K, Daneshvar DH, Stevens A, Moreau AL, Tirrell LS, Varjabedian A, Yendiki A, van der Kouwe A, Mareyam A, McNab JA, Gordon WA, Fischl B, McKee AC, Perl DP. Dementia After Moderate-Severe Traumatic Brain Injury: Coexistence of Multiple Proteinopathies. J Neuropathol Exp Neurol. 2018 Jan 1;77(1):50-63. doi: 10.1093/jnen/nlx101. PMID: 29155947; PMCID: PMC5939622.
Shively SB, Perl DP. Viewing the Invisible Wound: Novel Lesions Identified in Postmortem Brains of U.S. Service Members With Military Blast Exposure. Mil Med. 2017 Jan;182(1):1461-1463. doi: 10.7205/MILMED-D-16-00239. PMID: 28051958.
Shively SB, Edgerton SL, Iacono D, Purohit DP, Qu BX, Haroutunian V, Davis KL, Diaz-Arrastia R, Perl DP. Localized cortical chronic traumatic encephalopathy pathology after single, severe axonal injury in human brain. Acta Neuropathol. 2017 Mar;133(3):353-366. doi: 10.1007/s00401-016-1649-7. Epub 2016 Nov 24. PMID: 27885490; PMCID: PMC5325841.
Shively SB, Horkayne-Szakaly I, Jones RV, Kelly JP, Armstrong RC, Perl DP. Characterisation of interface astroglial scarring in the human brain after blast exposure: a post-mortem case series. Lancet Neurol. 2016 Aug;15(9):944-953. doi: 10.1016/S1474-4422(16)30057-6. Epub 2016 Jun 9. PMID: 27291520.
Shively S, Scher AI, Perl DP, Diaz-Arrastia R. Dementia resulting from traumatic brain injury: what is the pathology? Arch Neurol. 2012 Oct;69(10):1245-51. doi: 10.1001/archneurol.2011.3747. PMID: 22776913; PMCID: PMC3716376.
Shively SB, Perl DP. Traumatic brain injury, shell shock, and posttraumatic stress disorder in the military–past, present, and future. J Head Trauma Rehabil. 2012 May-Jun;27(3):234-9. doi: 10.1097/H